Working From Home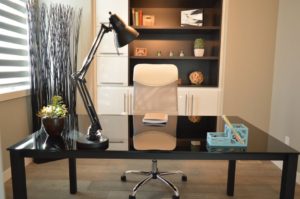 Working out of your home can be a blessing! However, because it's in such a comfortable environment, there is potential for it to be distracting. Due to minimal space, sometimes your home office doubles as storage or a guest bedroom. Consequently, it can be frustrating to work around all of that clutter! This puts you in a negative mood while working and has the potential to follow you for the rest of the day.
Alternatively, the benefits of having a clean, organized work space can do wonders for your mental health and work quality. This balance is particularly important in a home office environment. There will always be competing tasks, urging you to switch back and forth from a personal to professional mode. Our home organization solutions and home office organization solutions work hand in hand to make that transition easy for you when working from home.
As with any of our services, we strive to give you the confidence and knowledge to be successful long after we have packed up and gone home. In addition to de-cluttering and organizing your office, ClutterTroops can offer you time management and productivity training specifically designed for clients who are working from home. We listen as you detail your needs and struggles and find solutions tailor made for you!
Home Office Organization
ClutterTroops works with you to better understand how you work best. We discuss your job and the type of tasks that need completed. Using the knowledge we've gathered, ClutterTroops creates a home office environment that will be most effective for you!
ClutterTroops Home Office Organization includes services such as paper and documentation management, digital organization, and office design.
CONTACT US NOW TO GET STARTED!