Is your garage usable?
Having a clean, organized home is a common goal for most homeowners. It is a point of pride to have your home look like it operates smoothly with little effort when company comes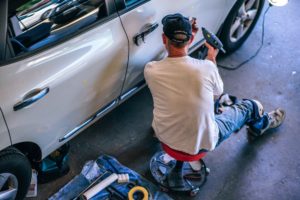 over. The place where most homeowners drop the ball appears to be in the garage. But why is that?
From the time you move into the home, the garage often becomes used as a glorified closet. Homeowners often deposit items and trash into the garage with an "out of sight, out of mind" attitude. These items might include cardboard boxes, broken toys, outdated electronics, bags of clothing intended to donate, and more! All of these items are taking up valuable space in your home.
Garage organization awards you with many opportunities for that space! Most notably, it is a place to park your vehicles. You may also choose to use the space as a work area for big projects. Some people store their lawn equipment if they don't have a shed. Others might choose to make it an art studio or a play area for the children while adults work outside. The possibilities are endless when you add that square footage back into your home. ClutterTroops can help you with your garage organization!
Garage Organization
Now that you are inspired to create a new purpose for your garage, all that's left to do is make it happen! If your space has been neglected for years, garage organization might seem like an impossible feat to tackle. ClutterTroops can make the process go by much faster! As professional organizers, we know exactly what we are doing when we dive in and get to work. We will help identify the items you would like to keep from the items to get rid of. Furthermore, as a green company, we will find Earth-friendly solutions to the items you would like taken away! These include electronic and toxic recycling.
Then we can start implementing organization and design into your garage to suit your needs. This includes installing organizational features, finding a home for all items, and cleaning of dirt and debris. We will KNOW your garage is usable after this project is complete!
Seven Benefits to Parking Your Car in the Garage
The average new vehicle in America costs about $30,000 in 2017. That is an investment worth protecting! Here are seven benefits to parking your car in the garage.
Keep your car safe from the elements and other vehicles! Rain, sleet, snow, and extreme temperatures all effect the exterior and interior of your vehicle. rust, weakened top coat, dings, and scratches, are all greater possibilities when parking your vehicle outside.
Less risk for theft or vandalism! It's one thing to damage a car on the street or a drive-way. It's quite another to break and enter into someone's garage. By parking your car in the garage, you are greatly reducing the risk of theft or vandalism.
You and your passengers will be happy! Having the ability to pull directly into the garage, especially if it is attached the the home is so convenient! It protects everyone from having to go out into extreme temperatures or through storms in order to get into the house. You can stay dry while unloading the groceries and avoid slipping on ice first thing in the morning as you leave! It also saves from the task of cleaning off your car after a snowstorm.
Greater re-sale value! A mechanic is able to tell which vehicles have been stored indoors and which have not. Increase re-sale value by storing your car in your garage!
Visibility! You can enjoy an extra cup of coffee in the mornings knowing there is no need to scrape ice off of your windshields. Additionally, you can avoid dewy or foggy windows by parking in the house as well.
Cheaper insurance! Some insurance companies offer discounts to people who park their vehicle in their garage!
Your vehicle runs better! Your engine stays lubricated, your coolant stays warmer, and your AC will work faster!
CONTACT US NOW TO GET STARTED!